Welcome at Port Revel
Training on the scale models provides experience that could never be gained on real ships for the simple reason that neither ship-owners or local authorities would allow such risks to be taken. The center, with its unique facilities, is the first of its kind and you are to be commended, together with the organization/pilotage that sponsored your participation, for recognizing the need for continued improvement in ship operation.
Scale models allow the ship handler to make mistakes. 
Scale models allow experimentation on ship behaviour to explore unknown fields beyond the limits of safety. 
Periodic training on scale models will maintain your ship handling skills at the highest level and periodic evaluations will show it. 
We would welcome your participation and to your trust you will find it stimulating and rewarding.

Manned model ship handling training has improved to a high standard over the years because:
the instructors have become more skilled and proficient in the delivery of the courses and in their ability to structure specific and customised courses as required
lake facilities have undergone changes, such as the creation of extensive shallow water areas with currents, and are such that in many cases they are able to mimic specific port scenarios
model electronics have become more sophisticated in order to reproduce real ship manoeuvring behaviour
tugs have become an integral part of the courses, providing very effective and realistic capability for berthing / unberthing operations and escort work
pod propulsion is now available, keeping manned models up to date with modern trends
Introduction of Quality Assurance increased the reliability of model ships and equipment.
Find us
How to come to Port Revel ?
3500 route de Revel, 38870 St Pierre de Bressieux, France
Tel : +33 (0)4 74 20 02 40
Access map
Coming from Lyon St Exupéry airport:

 follow the signs to GRENOBLE via highway A 43 & A48

Coming from Grenoble: 

follow the signs to LYON via highway A 48
The 
weather in Saint Pierre de Bressieux
Check the weather in Saint Pierre de Bressieux:
Contact us
Contact us for more information on our ship training and to book a course.
Experience sharing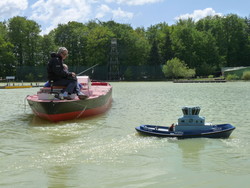 Port Revel is a permanent forum of ideas, an ideal meeting place where information and experience can be exchanged, or as a pilot once pointed out:
"In regular life, a practising pilot is always alone. He has no-one around to comment on or discuss a particular manoeuvre. The only times when a manoeuvre is analysed and commented is after an accident, when there is an inquiry. And that always takes place in a mood of tension. What I appreciate at Port Revel is that pilots observe your work in a calm, dispassionate and therefore constructive climate."