Models fleet
The Port Revel fleet is made up of twelve manned models and five radio-controlled tractor tugs.
The "Voyager" is a cruise ship, that is available since 2014. She is 311 m long (Loa) and will be fitted with 2 azimuthing pods (and one Fixipod) and powerful bow thrusters.
Download the technical document - pdf (90ko) 
The model made in 2016 is the "Cruise/Max", cruise ship made with the hull of the Q/Max but with the bridge at the bow and twin screw with Becker rudders. She is available since April 2016.
The last ship is the Spirit of Port Revel, a container carrier, that is available since 2019. The 6th 1:25 scale manned model made by the iXblue shipyard in La Ciotat.
In 2023, a version of the Otello was designed with the bridge at the first third forward like an ULCS.
All models but the Normandie, the Voyager and the Otello are fitted with diesel motor and steam turbine, and the Normandie can be controlled from the front deck like a car carrier and a cruise ship, so that the fleet in fact reproduces 25 different vessels.
The Voyager is fitted with two azimuthing "pods" and powerfull bow thrusters in order to reproduce the behaviour of a cruise ship.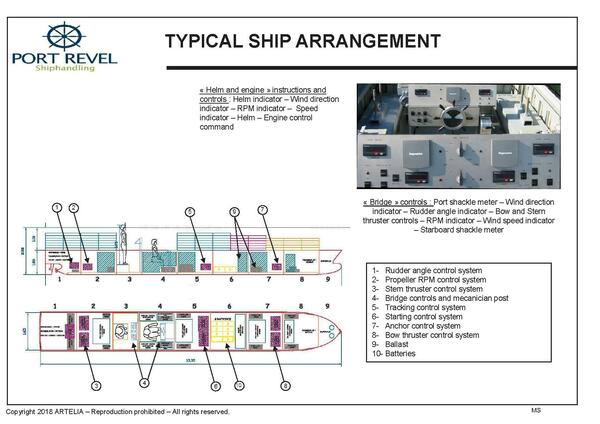 The fleet consists of 12 scale models, the "ships" and 5 tugs. Most of them represent real ships with their corresponding characteristics (engine acceleration rates, etc).
Several ships can have different set conditions: diesel motor or steam turbine, additional bridge at the bow, various loading conditions.
Each ship is fitted with two fully operational anchors and a bow thruster (and in some cases a stern thruster).
Each ship is fitted with appropriate instrumentation (wind speed and direction, log, rpm, rudder angle, paid out anchor-chain indicator).
Five ships are fitted with a DGPS centimetric tracking system.
One ship is fitted with an optional Schilling rudder, and three other with an optional Becker rudder.
Two ships are fitted with two pods, for one it's an option. This means that ship can be fitted either with a conventional rudder / propeller or with two pods.
Five fully operational tugs (one ASD, one VSP, one VSP with Turbo Fin, one Carrousel tug and one CERRO) are available.
The ships are accurately constructed to conform with the principles of similitude and are fitted with indicators showing the ship's parameters. Information given by the indicators are at full scale. Most models are fitted with diesel motor and steam turbine, and the Normandie can be controlled from the front deck like a car carrier , a cruise ship, so that given the various possibilities available for loading and modifying the ships.
The fleet in fact reproduces over 25 different vessels at the same scale, 1/25ème and allowing a variety of exercises for 8 to 10 participants working simultaneously.
Each model is designed so that the Master or Pilot is at bridge level. He gives out his instructions to the "crew", i.e. the helmsman, who steers the ship and operates the engine room telegraph. An instrument panel imparts continuous full scale indications of propeller rpm, rudder angle, ship's heading and speed, wind velocity and direction.
The sliding cover is positioned to correctly reproduce the effect of wind.

100% of participants satisfied to the similarity !
Introduction of the model tugs in our courses is a major advance as it allows experimentation with emergency ship handling when mechanical failures occur on ships:
rudder failures
engine failures
Two tugs were introduced in 2000 at the request of several US pilotages. A third tug was introduced in 2006 and includes the Voith Schneider Turbo Fin.
A Carrousel  Rave Tug was introduced in 2015 and in the same time, the Cerro an aquamaster tug.
One of the tugs is an Azimutal Stern Drive (ASD) with a Z-peller propulsion system. Two tugs have Voith Schneider propulsion (VSP). They can provide a bollard pull of over 100t, but are usually set to 50 to 70t.
The tugs are of course also at scale 1:25 ... Can you imagine working with a model ship at one scale and a tug at another scale ??!
The tugs are remote-controlled by a professional tug master at the pilot's orders.
This is not reproduced on numerical simulators ... nor are the typical tug manoeuvres: pure and powered indirect modes, jackknife, push-pull, driving and flying to steering position, etc.
Find below our fleet characteristics: