LNG Carrier
The "Ben Franklin" model
The "Ben Franklin" is a replica of the liquid natural gas (LNG) carrier (125 000 m3), fitted with Controllable Pitch Propeller and Schilling rudder if requested.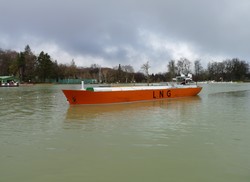 The CPP on this model is a left-hand turning propeller when sailing ahead. 
However, it behaves like a right handed propeller when sailing astern.
This is because the propeller is left-hand turning at any time, as it is the blades that change pitch instead of the propeller shaft going reverse.
As an option, this model can also sail with a traditional fixed pitch as a left-handed propeller.
Another option on this ship is a Schilling rudder which has fish-tail shape and a maximum rudder angle of 70°. With this angle, the Schilling rudder has a 77% propeller disk coverage instead of 52.5% for a conventional rudder with 35° max rudder angle.
This induces:
Significantly reduced overshoot angles.
Exceptional full speed course keeping ability.
Improved crabbing and zero speed control.
Enhanced turning capability with significantly reduced turning circles at speed.
Reduced head reach and lateral deviation.
The Q-Max model
In this version, the Q-Max can carry 266 000 m3 of LNG and has twin-screw inward turning propellers and two rudders.
The length o.a is 345 m and breadth is 53,80 m. The max windage is 9000 square meters.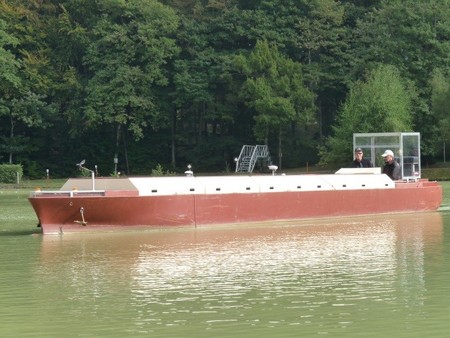 BEN FRANKLIN (125 000 m3)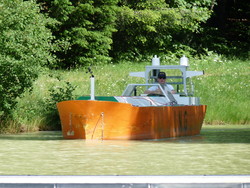 Dimensions
| | | |
| --- | --- | --- |
|   | 1/25th | Real |
| Length o.a.: | 10,92 m | 273 m |
| Width: | 1,64 m | 41 m |
| Weight: | 5,79 t | 90 000 t |
| Draft loaded: | 0,44 m | 11,10 m |
Main features
 
1/25th
Real

Main propulsion:

Engine / Turbine - Single propeller with fixed pitch and variable pitch

Rudder:

Normal and Schilling

Power:

0,41 CV 

32 000 HP

Rate of turn (Deg/sec):

13

2,6

Bow and stern thruster:

-

1 500 HP

Boost bow and stern thruster:

0,050 t

-

Chain length:

13,30 m

332,50 m
Q-MAX (266 000 m3)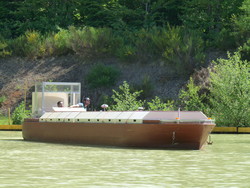 Dimensions
| | | |
| --- | --- | --- |
|   | 1/25th | Real |
| Length o.a.: | 13,80 m | 345 m |
| Width: | 2,15 m | 53,80 m |
| Weight: | 11,52 t | 180 000 t |
| Draft loaded: | 0,48 m | 12 m |
Main features
 
1/25th
Real

Main propulsion:

Engine / Turbine - Double Fixed Pitch Propeller

Rudder:

Normal and Becker

Power:

0,66 CV 

52 000 HP

Rate of turn (Deg/sec):

13

2,6

Bow and stern thruster:

-

-

Boost bow and stern thruster:

0,100 t

-

Chain length:

14,70 m

367,50 m