Tanker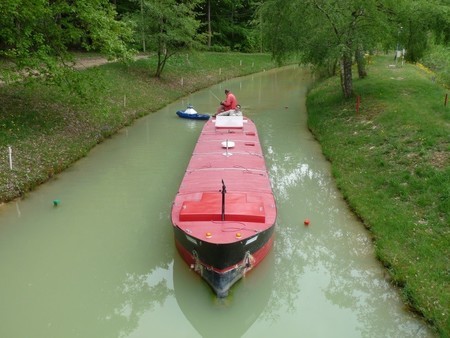 Our center currently has 6 tankers and bulks carrier models, ranging from 38,000 dwt to 400,000 dwt. 
These are very low water models that represent liquid and solid transport vessels. 
They are used both for training courses and for advanced training.
Their uses differ according to the exercises proposed.
We have special courses for VLCC, STS operations or maneuvers around buoys or Rigs.

BERLIN (38 000Dwt)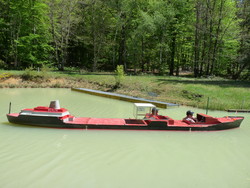 Dimensions
| | | |
| --- | --- | --- |
|   | 1/25th | Real |
| Length o.a.: | 8,56 m | 214 m |
| Width: | 1,15 m | 28,80 m |
| Weight: | 3,26 t | 51 000 t |
| Draft loaded: | 0,43 m | 10,92 m |
Main features
 
1/25th
Real

Main propulsion:

Engine / Turbine - Single fixed pitch propeller

Rudder:

Normal

Power:

0,224 HP

17 500 HP

Rate of turn (Deg/sec):

15,5

3,1

Bow thruster:

-

1 500 HP

Boost bow thruster:

0,025 t

-

Chain length:

No anchor
GRENOBLE (43 000 Dwt)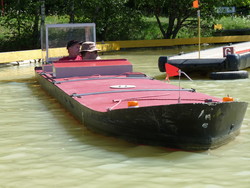 Dimensions
| | | |
| --- | --- | --- |
|   | 1/25th | Real |
| Lenght o.a.: | 7,92 m | 198 m |
| Width: | 1,18 m | 29,50 m |
| Weight: | 3,52 t | 55 000 t |
| Draft loaded: | 0,46 m | 11,54 m |
Main features
 
1/25th
Real

Main propulsion:

Engine / Turbine - Single fixed pitch propeller

Rudder:

Normal

Power:

0,224 HP

17 500 HP

Rate of turn (Deg/sec):

13

2,6

Bow thruster:

-

1 100 HP

Boost bow thruster:

0,025 t

-

Chain length:

No anchor
GILDA (125 000 Dwt)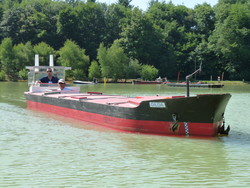 Dimensions
| | | |
| --- | --- | --- |
|   | 1/25th | Real |
| Length o.a.: | 10,96 m | 274 m |
| Width: | 1,68 m | 42 m |
| Weight: | 9,55 t | 149 000 t |
| Draft loaded: | 0,62 m | 15,52 m |
Main features
 
1/25th
Real

Main propulsion:

Engine - Single fixed pitch propeller

Rudder:

Normal and becker

Power:

0,308 HP

24 000 HP

Rate of turn (Deg/sec):

17,5

3,5

Bow and stern thruster:

-

1 500 HP

Boost bow and stern thruster:

0,050 t

-

Chain length:

14 m

350 m
BRITTANY (190 000 Dwt)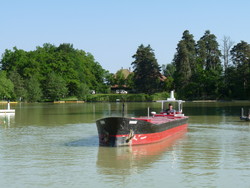 Dimensions
| | | |
| --- | --- | --- |
|   | 1/25th | Real |
| Length o.a.: | 12,84 m | 321 m |
| Width: | 1,89 m | 47,20 m |
| Weight: | 14,40 t | 225 000 t |
| Draft loaded: | 0,74 m | 18,45 m |
Main features
 
1/25th
Real

Main propulsion:

Engine / Turbine - Single Fixed Pitch Propeller

Rudder:

Normal and becker

Power:

0,41 HP

32 000 HP

Rate of turn (Deg/sec):

12,5

2,5

Bow and stern thruster:

-

3 000 HP

Boost bow and stern thruster:

0,050 t

-

Chain length:

11,60 m

290 m
EUROPE (255 000 Dwt)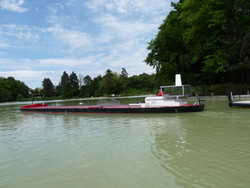 Dimensions
| | | |
| --- | --- | --- |
|   | 1/25th | Real |
| Length o.a.: | 13,92 m | 348 m |
| Width: | 2,07 m | 51,80 m |
| Weight: | 18,60 t | 291 000 t |
| Draft loaded: | 0,80 m | 19,98 m |
Main features
 
1/25th
Real

Main propulsion:

Engine / Turbine - Single Fixed Pitch Propeller

Rudder:

Normal

Power:

0,41 HP

32 000 HP

Rate of turn (Deg/sec):

13

2,6

Bow and stern thruster:

-

3 000 HP

Boost bow and stern thruster:

0,050 t

-

Chain length:

12,30 m

310 m
ANTIFER (400 000 Dwt)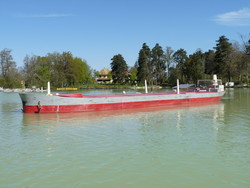 Dimensions
| | | |
| --- | --- | --- |
|   | 1/25th | Real |
| Length o.a.: | 14,48 m | 362 m |
| Width: | 2,80 m | 70 m |
| Weight: | 30,13 t | 471 000 t |
| Draft loaded: | 0,88 m | 21,96 m |
Main features
 
1/25th
Real

Main propulsion:

Engine - Single Fixed Pitch Propeller

Rudder:

Normal

Power:

0,57 HP

45 000 HP

Rate of turn (Deg/sec):

10,5

2,1

Bow thruster:

-

6 000 HP

Stern thruster:

-

3 000 HP

Boost bow thruster:

0,100 t

-

Boost stern thruster:

0,050 t

-

Chain length:

14 m

350 m